On August 15, 1947, the planet's largest democracy came kicking and screaming into the world. It's still the world's largest democracy — but the kicking is a Bhangra dance move, and the screams are of laughter, during one of its joyous festivals.
This is a story of India: a series of contrasts.
Bullock carts stand side by side with Bentleys at a stoplight, and Rajput ruins rub shoulders with concrete high-rise. Himalayan mountain peaks lead down to the shores of the Arabian Sea, and the sands of the Thar desert give way to tropical jungles.
But if your journey through India was a Bollywood movie, serendipity would play the lead.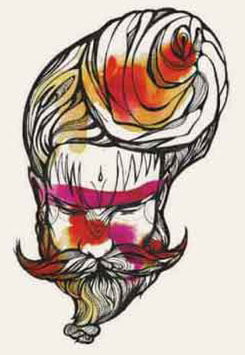 Sing along to a Qawalli chorus in the streets of Old Delhi. Move to the rhythm of a tribal beat with the Nagas at the Hornbill Festival. Watch a cloud of shocking pink Lesser Flamingos fly up into the sky in the Rann of Kutch.
We open doors to unforgettable experiences and inspiring individuals, and combine flawless service with spectacular events, to bring you an authentic, joyful and spirited India.
Spontaneous and sophisticated, explore Indian culture with us. Take a guided walk of architectural heritage, visit a designer's studio, lunch at a chic café with an artist.
Home cooking in Kolkatta to nouvelle cuisine in Pondicherry, cuisine plays a vital role, and is a subculture unto itself. Encounters Asia's seasoned insiders have their ear to the ground, and know exactly where you need to be and when, to capture the best moments.
Leave the urban world, to find yourself amid spellbinding rural India. That brightly coloured turban atop a goatherd's head?
It's more than a fashion statement — it tells you which local community or tribe he belongs to. From mustard fields in Himalayan villages, to lush coconut groves in coastal hamlets, engage with rural communities and remote tribes.
As you travel across the country, you will discover inspiring natural landscapes. Gorgeous mountains, rivers, coasts and forests form the backdrop for a canvas teeming with incredible culture and wildlife.
Track tigers amid dense forests, or search for the elusive Snow Leopard in the Himalayas. Rare species like the Red Panda to iconic creatures like the Asiatic Elephant, and migratory birds like the Amur Falcon, India's wildlife is simply unique.
Tribal chiefs or art collectors, naturalists, sages, or Maharajas — India is best revealed by the folk that you encounter en route.
Explore India from their perspective, and discover a whole new world. Warm, engaging, and well-informed, they are genuinely delighted to share their insights with you.
India's essence lies in the extraordinary joys of everyday life that keep occurring throughout your journey. Before you know what's happening, the spirit of India enchants you and transforms your soul forever.
To understand India in its entirety, you have to have an insider's perspective.
Majestic mountains and enchanting waterways provide a serene backdrop to colorful spice-laden markets.
Authentic. Vivid. Inspiring.
India is a photographer's playground.
If you look at the Indian landscape through a lens of discernment, you'll find that multiple dimensions add depth and texture to every capture.
Sustainability and responsible tourism is key to how we run our business at every level. Having spent generations in the wild, environmental protection is a priority and our family was one of the pioneers of eco-friendly tourism into India.
For us, sustainability is much more than just a label. It's a way of life and of doing business that is in sync with the environment. For us it's every bit as important that each experience should give back to the community as much as it gives to the traveler.
At Encounters Asia, we are passionate about designing experiential and transformational journeys of a lifetime. A family-owned company, it has been in business for over 30 years. We design exclusive, customized itineraries, and offer all our travellers top-notch service, hand-picked stays, smooth logistics, exceptional guides, and our granular expertise.